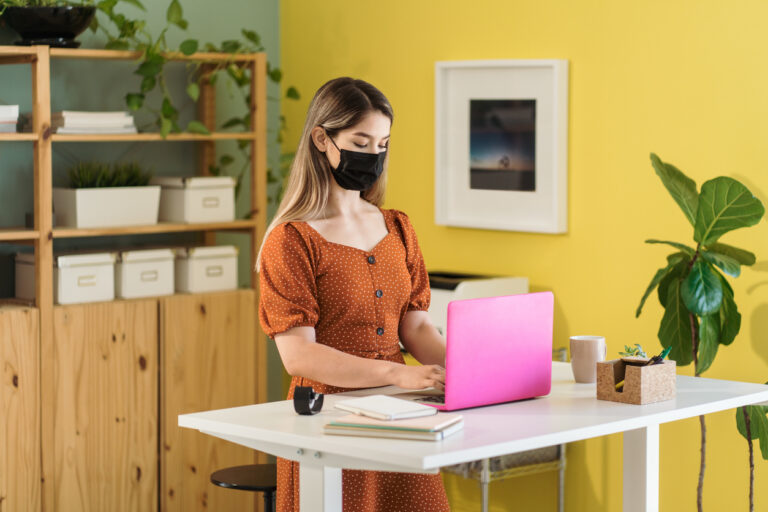 Sitting for long hours can be seriously bad for your health. It's a widespread problem among urban adults in 2022, seeing as we spend so much time hunkered down at our desks, tackling long reports, writing complex code and skimming through spreadsheets.
But the solution is also surprisingly simple. A growing body of research shows that standing up and stretching your legs every 60 minutes or so can burn more calories and lower risks of diseases like heart attack, stroke and diabetes. Replacing your sitting desk with a height adjustable workstation can also help improve posture, mitigate chronic body pains and prevent depression. If you, like us, have adopted a hybrid working style, upgrading your home office set-up is definitely worth it, and a standing desk may be the key to better focus and higher productivity.
After reviewing the myriad of available options on the market, we've drawn up a shortlist of outstanding candidates. Below are our top picks to help you move toward a healthier lifestyle this year.
#1 Claire and Barry Large Dual-Motor Standing Desk
Our thoughts:
Of all the height adjustable desks we've tried and tested this year, the large electric desk by Claire & Barry has by far the biggest range and flexibility. It can accommodate big and tall adults as well as kids and teens.
Made in Taiwan, it comes with top notch commercial-grade components and silent twin motors, and can be assembled in 5 minutes or less with the included tool set. Beyond quality and build, there's also a thoughtful design that we found super handy— a built-in groove for holding your phone or laptop, so you can get weather updates from Siri and pick up calls without taking your eyes off your monitor.
By the way, there's a whopping 20% discount going on right now, so if you're looking for a workspace overhaul, this is the time to dole out your pennies.
Height range: 24″ to 51″
Surface dimensions: 54" x 29"
Weight capacity: 220lbs
Price: $379.97 $499.99
*Take a further 20% off now with STANDUP20 at the checkout
FINAL PRICE: $303.99 (Free shipping included at the time of this article)
PROS
-Premium quality
-Goes from 24" to 51″, this is one of the biggest range we've seen
-Smooth, whisper-silent motor
-Holds your phone while you work
-Smooth movement
CONS
-Not as many configuration options, we wished there is an option for white legs and frame
SUMMARY: Fantastic value, especially for families that share a desk. Great for big and tall folks too!
Link: https://claireandbarry.com/collections/workstations/products/dual-motor-standing-desk-large-maple-color
#2 Vari Electric Standing Desk
Our thoughts:
Vari's Electric Standing Desk boasts an extremely handsome 1.25" thick work surface with chamfered edges. But what truly made it stand out was how easy it is to put together. It took me less than ten minutes to assemble this desk, and I'm not a super handy person. We also liked the intuitive control panel and the two side hooks on which you can hang your headphones. Vari offers a large range of accessories, including an optional cable management tray that easily attaches to the back of the desk, ideal for those working with large business monitors and chunky power adapters. The only drawback is that all these nifty extras will also cost you extra.
Height range: 25" to 50.5"
Surface dimensions: 48" x 30"
Weight capacity: 220 lbs
Price: $695
PROS
-Premium quality
-Super easy to assemble
-Excellent cable management feature
CONS
-Pricey
-Accessories cost extra
SUMMARY: Super intuitive and easy to install, lots of nifty add-ons. A great choice for those who favor convenience.
Link: https://www.vari.com/electric-standing-desk-60×30/FD-ESD6030.html
#3 UPLIFT Standing Desk V2
Our thoughts:
This popular standing desk comes with a myriad of colors and sizes, so you can choose from a large variety of veneers, from walnut to bamboo to solid mahogany. There's even a whiteboard option that allows you to write notes directly on your desktop. UPLIFT also prides itself on safety and stability. This standing desk comes with a cutting-edge anti-collision system and can hold up to 355 lbs— the strongest loading capacity we've ever seen! (It's said that you can hang a hammock and nap under your desk if you like, but so far, we haven't tried that yet…)
With first rate quality and an impressive seven-year warranty, this desk is definitely a solid choice— if you've got $700 to spare, anyway.
Height range: 25.3″ to 50.9″
Surface dimensions: 42" x 30" or larger sizes for upgrade fee
Weight capacity: 355 lbs
Price: $689
PROS
-Superior anti-collision system
-Load capacity up to 355lbs
-Superb 15 year warranty
-Large selection of looks and colors
CONS
-Extremely pricey
-Extra international shipping fees
SUMMARY: Safe, sturdy, and customizable. Our high budget champion!
Link: https://www.upliftdesk.com/uplift-v2-standing-desk-v2-or-v2-commercial/
#4 Fully Jarvis Bamboo Standing Desk
Our thoughts:
This bamboo surface desk looks and feels absolutely gorgeous. But we realized we should have picked a bigger size, since 30″ x 24″ is kind of small, especially if you're looking for a table that can house two or more monitors. My advice is to go with the 60″ x 30″ option with contoured front edge and 3-stage frame. You also have the choice of six different frame colors and no grommet holes on the desktop, or up to two grommet holes with powered grommets, depending on size. The motor is extremely quiet, so your workflow won't be interrupted when you move between different heights and positions.
Height range: 30″ to 49″
Surface dimensions: 30″ x 24″
Weight capacity: 350 lbs
Price: $569
PROS
-Attractive looking
-Eco-friendly
-Can hold heavy loads
-Whisper-quiet motor
CONS
-Three-stage legs wobble slightly
SUMMARY: Number one when it comes to aesthetics. For people who value style and silence.
Link: https://www.fully.com/standing-desks/jarvis/jarvis-adjustable-height-desk-bamboo.html?utm_source=The+Wirecutter&utm_medium=rakuten&ranMID=44880&ranEAID=7m8EnekPF5E&ranSiteID=7m8EnekPF5E-9wUqOTa65my2DSx7CkD5qg
#5 Autonomous SmartDesk Pro
Our thoughts:
The SmartDesk Pro is a slight step up from Autonomous' signature SmartDesk Core model, with more working space and generous height adjustment range. The build is sturdy and movement is flawless, but the dual motor is louder than expected, and the entire setup takes almost an hour to assemble.
Height range: 26.2" to 52"
Surface dimensions: 70.5" x 30" (XL)
Weight capacity: 310 lbs
Price: $649
PROS
-Large working area
-Smooth movement
-Comes in three sizes (small, classic, XL)
CONS
-Electric dual motor kind of loud
-Takes longer to assemble
SUMMARY: A well-built workhorse. Could be a little quieter though. Overall, a decent choice, but not our favorite!
Link: https://www.autonomous.ai/?quickview=smartdesk-2-business&category=standing-desks